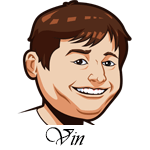 Follow @SBTSportBetting
[Get Exclusive Tips on our Patreon, Ad-Free
]
MLB tips for September 9th, 2022.
2-2 back on Tuesday.
I really wasn't planning on taking the next two days off, but that's just how the schedule played out. Hardly any games on the schedule and not good spots in the ones that were.
Five MLB tips on Patreon, three are below.
I will have college football betting tips for tomorrow's slate on Patreon tonight, including the big Alabama-Texas game.
Sign-up for Patreon now to get a full month of NFL, college football, and MLB betting tips. Try it for this month free. There will be no charge until October 1st.
We are now posting some of our betting tips exclusively on Patreon, as well as posting exclusive betting tips there. Here is what you get by supporting us on Patreon:
Exclusive betting tips. Not just the tips omitted from these posts, but Vin will also be posting EVERY MLB System play and Graeme does Golf, WNBA, Formula 1, and various non-EPL soccer tips. Football season is just around the corner too. Graeme will be posting NFL and Vin is going to cover college.
Ad-free experience.
Priority e-mails; receive the e-mails as soon as the tips are posted rather than hours later.
Feeling good about supporting two guys who have worked their butts off writing sports tips on here for free for over 10 years. We promise only to spend it on beer and wings at our local sports bars!
Click here to support us on Patreon. Thanks!

New York Mets at Miami Marlins Betting Tips:
NYM – David Peterson 3.32 ERA/3.54 FIP
MIA – Edward Cabrera 2.39 ERA/4.03 FIP
One bet that has been good to us this year has been Tigers vs. right handed pitching, but the Marlins against lefties is right there with them. They have just a 64 wRC+ against them this season and as a team they have a 59 wRC+ over the last two weeks. The Marlins are limping to the finish line and I'd be surprised to see them score much early.
Cabrera has some big strikeout numbers and has had great results over his past five starts with a 2.22 ERA/3.82 FIP. The Mets offense is very tough with a 116 wRC+, but they've been worse on the road this season and quieter over the past month with a 105 wRC+.
Mets/Marlins Under 4 First 5 Innings (-110)

Tampa Bay Rays at New York Yankees Betting Tips:
TBR – Drew Rasmussen 2.70 ERA/3.23 FIP
NYY – Frankie Montas 3.79 ERA/3.62 FIP


Cleveland Guardians at Minnesota Twins Betting Tips:
CLE – Cal Quantrill 3.55 ERA/4.50 FIP
MIN – Dylan Bundy 4.34 ERA/4.16 FIP
Bundy isn't much to get excited about, but he has been much better of late with a 1.80 ERA/3.67 FIP over his past five starts. The Guardians offense is playing like they don't want to make the playoffs with a 60 wRC+ over the past two weeks.
The Twins offense has been better of late, but still down from where they've been. They have a 106 wRC+ over the past two weeks and a 95 wRC+ over the past month. Quantrill has been dealing of late with a 2.17 ERA/3.22 FIP over his past five starts.
The bullpens will decide this total and they've both been throwing very well of late. Especially Cleveland's which has a 67 FIP- over the last thirty days.
This is going to be a real playoff atmosphere and both offenses are not scary at all right now.
Guardians/Twins Under 7.5 (-107)

Arizona Diamondbacks at Colorado Rockies Betting Tips:
ARI – Zach Davies 3.74 ERA/4.42 FIP
COL – German Marquez 4.86 ERA/4.69 FIP


Atlanta Braves at Seattle Mariners Betting Tips:
ATL – Charlie Morton 4.01 ERA/3.96 FIP
SEA – Robbie Ray 3.45 ERA/3.87 FIP
This should be another playoff atmosphere with both teams needing wins for their playoff race and two good pitchers on the mound.
Ray has been pretty up and down this year, but he's been up over his past five starts (1.41 ERA/3.41 FIP) and at home (2.49 ERA/3.07 FIP) this season. The Braves offense is hot right now and hits well against lefties, but the combination of Ray's recent output and this being a very good pitcher's park should keep them down a bit. The Mariners bullpen has been lights out for the past month with a 70 wRC+.
Morton has been very good of late as well with a 2.70 ERA/3.03 FIP. The Mariners offense has just a 104 wRC+ against righties this season and they've been at the same level over the past two weeks. The Braves bullpen has struggled of late, but they have an 89 wRC+ over the past month which is still pretty good.
Both bullpens should only be needed for a short period of time as this looks like a solid pitching match-up.
Braves/Mariners Under 7 Runs (+100)
Bet Horse Racing – +£21,565.98 profit on £25/pt staking. Click for more details.
(Advertisement but we have tested it out and have been quite impressed with it)
Follow @SBTSportBetting