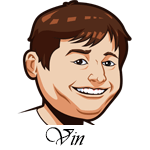 Follow @SBTSportBetting
[Get Exclusive Tips on our Patreon, Ad-Free
]
MLB Betting Tips for June 7th, 2022.
Tonight is a great time to try out our Patreon as it is the biggest night of tips of the season with the System liking NINE GAMES, four are available below.
We are now posting some of our betting tips exclusively on Patreon, as well as posting exclusive betting tips there. Here is what you get by supporting us on Patreon:
Exclusive betting tips. Not just the tips omitted from these posts, but Vin will also be posting EVERY MLB System play and tips for every NBA Playoff game on there, and Graeme will be doing various non-EPL soccer tips.
Ad-free experience.
Priority e-mails; receive the e-mails as soon as the tips are posted rather than hours later.
Feeling good about supporting two guys who have worked their butts off writing sports tips on here for free for over 10 years. We promise only to spend it on beer and wings at our local sports bars!
Click here to support us on Patreon. Thanks!

Chicago Cubs at Baltimore Orioles Betting Tips:
CHC – Keegan Thompson 1.99 ERA/3.51 FIP
BAL – Kyle Bradish 6.82 ERA/5.44 FIP
Thompson is begging for some regression and this park is usually good for run scoring. The Orioles don't excite anyone, but they have proven they can excite at times.
Bradish is just plain no good and the Cubs are pretty hot right now with a 122 wRC+ over the past two weeks.
I hate that half run, but a light wind blowing out will help.
Cubs/Orioles Over 4.5 First 5 Innings (-110)

St. Louis Cardinals at Tampa Bay Rays Betting Tips:
STL – Dakota Hudson 2.96 ERA/4.57 FIP
TBR – Jeffrey Springs 1.88 ERA/3.37 FIP


Bet Horse Racing – +£21,565.98 profit on £25/pt staking. Click for more details.
(Advertisement but we have tested it out and have been quite impressed with it)
Atlanta Braves at Oakland Athletics Betting Tips:
OAK – Cole Irvin 2.96 ERA/4.12 FIP
ATL – Kyle Wright 2.41 ERA/2.94 FIP


New York Yankees at Minnesota Twins Betting Tips:
NYY – Jameson Taillon 2.30 ERA/2.88 FIP
MIN – Cole Sands 7.88 ERA/5.39 FIP
One of those games where the runline and moneyline aren't worth betting, but the System loves the Yankees anyway.
An obviously great match-up against Sands and this is one of the best offenses in the league. A 119 wRC+ against righties and they've hit more homeruns than anyone. The Twins bullpen has been costing them all season and has a 124 FIP- over the past two weeks.
Yankees Over 4.5 Runs (-120)
Bet Horse Racing – +£21,565.98 profit on £25/pt staking. Click for more details.
(Advertisement but we have tested it out and have been quite impressed with it)
Philadelphia Phillies at Milwaukee Brewers Betting Tips:
PHI – Ranger Suarez 4.69 ERA/4.45 FIP
MIL – Jason Alexander 4.79 ERA/4.82 FIP (Projected)


Seattle Mariners at Houston Astros Betting Tips:
SEA – Chris Flexen 4.55 ERA/4.84 FIP
HOU – Justin Verlander 2.23 ERA/3.76 FIP
Seattle tagged Verlander for six runs on four homeruns the last time these two teams faced off so I'm not as afraid of him as I once was. He followed that up with three runs allowed against Oakland so he is not on his A-game right now.

Flexen is a pitcher that has been hit hard all season and the Houston offense can hit hard.
This is a play based on these two offenses more than anything. The System sees this one approaching ten runs so over eight is an easy play for me.
Mariners/Astros Over 8 Runs (-115)

Los Angeles Dodgers at Chicago White Sox Betting Tips:
LAD – Mitch White 4.79 ERA/4.20 FIP
CHW – Michael Kopech 2.20 ERA/3.41 FIP


Boston Red Sox at Los Angeles Angels Betting Tips:


New York Mets at San Diego Padres Betting Tips:
NYM – Taijuan Walker 2.88 ERA/3.70 FIP
SDP – Yu Darvish 4.03 ERA/3.47 FIP
Another Mets line that I just don't get. They have been one of the hottest teams of baseball and are absolutely crushing the ball. Darvish has been solid, but the Mets absolutely kill righties with a 120 wRC+ over the past two weeks.
Walker continues to perform for this team and he gets a nice match-up today as the Padres have just an 86 wRC+ against righties on the season.

I could take the F5 moneyline here, but at this price it's worth it for the extra points.
Mets +0.5 First 5 Innings (-128)
Bet Horse Racing – +£21,565.98 profit on £25/pt staking. Click for more details.
(Advertisement but we have tested it out and have been quite impressed with it)
Follow @SBTSportBetting